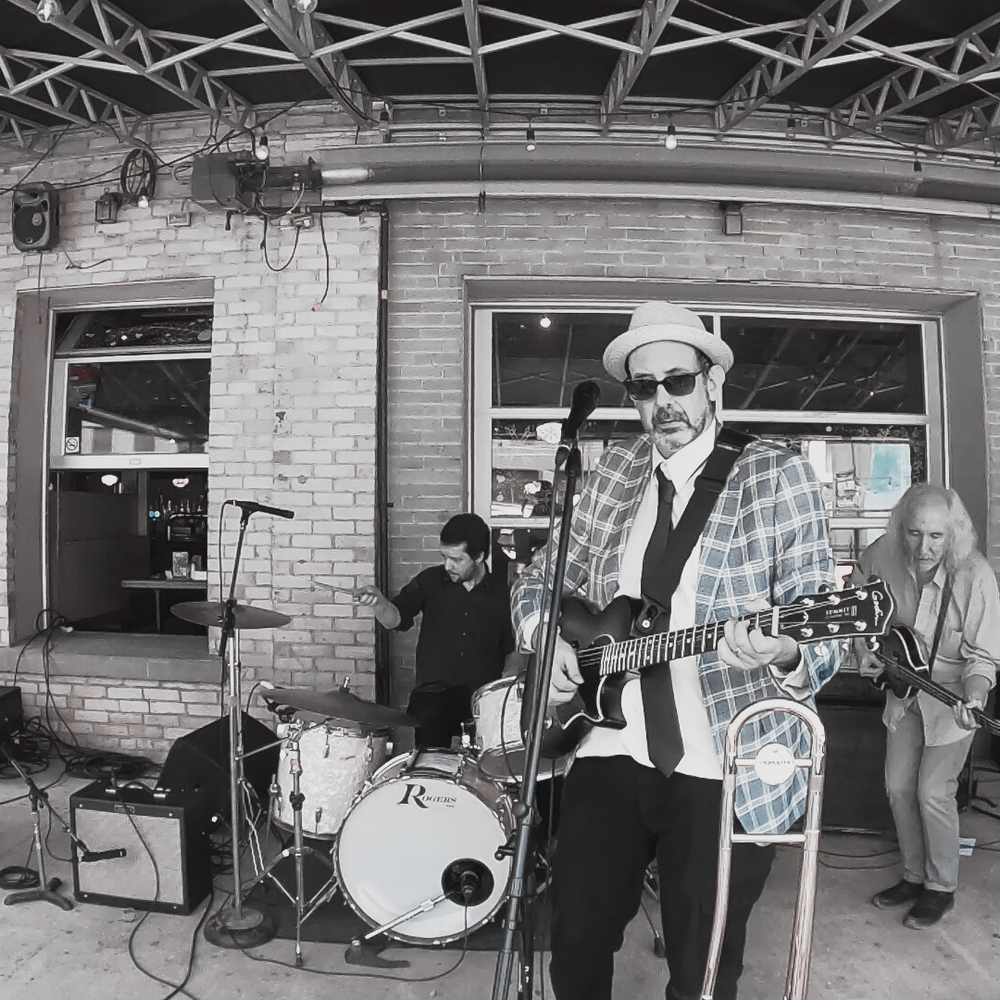 Jack and the Spare Hearts
About the band
Jack and the Spare Hearts are a Kitchener-based 5-piece band who play original tunes with a touch of R&B, a hit of New Wave, a heap of Funk, a pinch of Ska—and an attitude that says we are here to enjoy ourselves. And feel free to do the same.
Jack Cooper, songwriter and frontman, brings a love of 70's New Wave, Stax and Motown to a band who's been around—a couple of horns, some great guitar, and a solid rhythm section.
The result is the R&B romp 'Worst Kept Secret', or funk-based tirade 'All Been Fooled Again', or the 50s-style horns and camp of 'Selfie Love', or the jangly pop of 'Morning Girl'.
Support from the Region of Waterloo Arts Fund has enabled the band to build audience within Waterloo Region through presentation of a series of shows at The Jazz Room. We look forward to recording original material and scheduling more shows over the coming year.
Band Members
Jack Cooper: lead vocals, rhythm guitar, valve trombone—30+ years in the Region's music community as performer, recording artist, presenter, publisher, and low-brass sideman with Richard Garvey and many other local recording/performance projects.
Robert Reid: lead guitar— 60+ years of playing includes international touring with The Platters, festival and venue performances with The Tucson Choir Boys, Cheryl Lescom, Katy Topham, and Jesse Treneer, while as producer and music director of "The Talented" he gave artists like Matt Weidinger and Alysha Brilla significant early performance opportunities.
Ken Brown: bass guitar— 40+ years as producer, performer, MC, writer, arranger and multi-instrumentalist, his distinctive playing style and ability to re-imagine songs has taken him to festivals and concert venues all over North America and Great Britain.
Steve Aylward: drums—18+ years as drummer, multi-instrumentalist and freelance audio engineer supporting a diverse range of projects across multiple genres with artists including Richard Garvey, Alison Corbett, and The Explore Trio.
Kim Regimbal: tenor sax—20+ years and over a thousand shows full of boundless creativity and multi-instrumental fluency gracing projects like Richard Garvey, Snack! and Devil Spork. He's also a full-time middle school music teacher—which somehow helps with this bunch.